Top 7 Most Relaxing Modern Anime as Ranked by Japan
Who doesn't enjoy relaxing with some anime after a long day? Fans turn towards Relaxing anime for their soothing effect. While most soothing anime have calm atmospheres, others are laugh-out-loud funny.
Goo Ranking as the Japanese community to vote for the most relaxing anime, with the restriction being that they couldn't have aired before 2010. Here are the top 15 choices:
7. Nichijou – 144 votes
Yuuko Aioi, Mio Naganohara, and Mai Minakami are high school friends whose seemingly normal days are filled with comically absurd moments. Their bizarre lives intersect with the eight-year-old inventor Hakase, talking cat Sakamoto, and the robot Nana Shinonome.
6. Karakai Jouzu no Takagi-san – 184 votes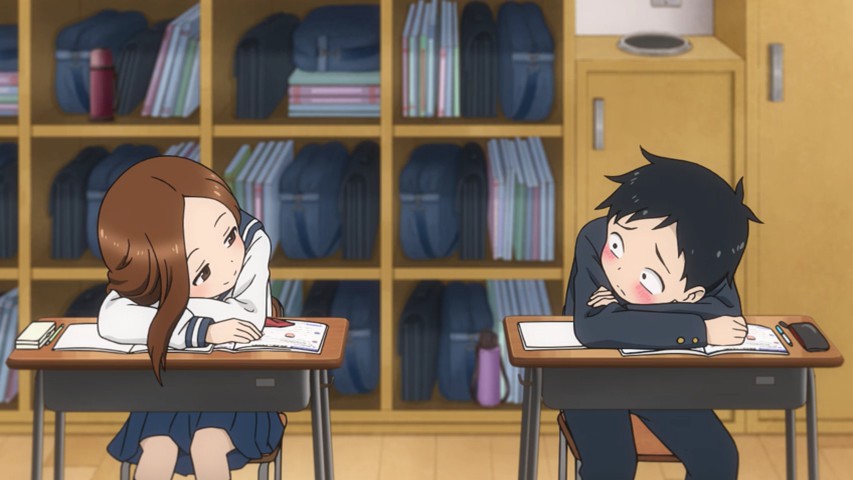 Nishikata and Takagi are desk neighbors in class with a simple game: "the blusher loses." The two constantly tease each other, but Nishikata always ends up blushing! Will Nishikata ever get the reaction out of Takagi he craves? if you like the slice of life anime, Comedy, School Romance, anime.  I bet you like Karakai Jozu no Takagi-san, and further more this anime introduce to us tsundere boy in anime.
5. Gakuen Babysitters – 234 votes
Following a plane crash that killed their parents, brothers Ryuuichi and Kotarou find themselves living with the chairwoman of Morinomiya Academy. She lost her son and daughter-in-law in that same crash. As a condition for her care, Ryuuichi must spend his non-school time working at the academy's daycare, which is where Kotarou will spend most of his days.
4. Love Lab – 330 votes
Riko and Maki are popular second-year students at Fujisaki Girls' Academy. When Maki accidentally discovers Riko practice kissing on a body pillow, Riko is forced to keep Maki's secret and become her love counselor. Too bad Riko doesn't know much about love or boys. This anime is hilariously funny some moments are calm atmospheres, others are laugh-out-loud funny.
3. Laid-Back Camp – 428 votes
Rin loves camping near the base of Mount Fuji, especially during the cold off-season. One night, she meets Nadeshiko, a flaky girl who just moved into town. After sharing a quick meal of cup ramen, Nadeshiko finds herself thrilled at the prospect of camping with Rin…despite Rin's reluctance to have company.
2. Is the Order a Rabbit? – 480 votes
Cocoa Hoto moves to a new town to attend high school and gets lost looking for a café she is supposed to work at. While wandering, she stumbles upon a place called Rabbit House. Thinking it's a place where customers can cuddle rabbits, but there are no rabbits to be found! Cocoa learns that it is the very same café she is supposed to work at. She meets other waitresses from different cafés and unwittingly injects joy into their lives.
1. Tanaka-kun is Always Listless – 532 votes
Tanaka has mastered the listless way of life. Known for his ability to sleep anywhere and for being super laid-back, Tanaka's only goal is to maintain his lazy lifestyle. His reliable friend Ohta is always watching Tanaka's back and is willing to help Tanaka finish any tasks that get in the way of his listlessness.
What do you think is the most soothing anime from the past decade?
gigglingdonkey
I'm a 22 year old Anime blogger, currently studying for my masters in finance and control. To be honest, I have absolutely no desires to become a taxman. I am just an ordinary guy with everything to lose!