Top 10 Reasons You Should Watch My Hero Academia
Top 10 Reasons You Should Watch My Hero Academia. Boku No Hero Academia is ongoing with its 3rd Season, Meanwhile, 2nd season was a great hit and huge amount of Manga Copies were also sold for the given series. The anticipation for the 3rd season and HYPE created by its fans is not something overrated, My Hero Academia is good in all fields in perspective of an Ideal Anime.
So let's see, what makes this Anime so Special.
10. Good origins story
Who doesn't like a good origin story?! At the start of the series, Deku and the rest of the hero class aren't established heroes, they're just kids with powers, naive and unpolished. As the series progresses, each character is tested, pushed to their breaking point. Watching them rise above it all and become the heroes they were meant to be is what really makes the ride worthwhile!
9. Opening Song Which Will Unleash Your Hero Within
https://youtu.be/SPAkl8ipkGg
The music marries soft and uplighting with badass rock guitar riffs perfectly. In short, the soundtrack to My Hero Academia is like adding the most epic icing onto what is already one delectably good cake. A song which you cannot skip to watch the episode, And it will just tickle your senses and make you sing the song.
8. It's Well Paced and Keeps you Invested.
My Hero Academia takes the extraordinary and builds a world around it. The flow keeps everything fresh and interesting, and it doesn't fall victim to any filler like some other anime shows. it makes it easier to flesh out the often overlooked institutional details giving the show a rather solid foundation, especially given the fantasy elements of the series.
7. Cliffhanger Series
Cliffhanger series is the one which comprises the end moments with a climax and the anticipation for the next episode gets to a new level. The way this series keeps its episodes in suspense, that its irresistible for the fans to ignore the series, once you start trailing it down.
6. The Quirks
What's a superhero series without the superpowers?! While most powers are either physical, mental, or elemental, the Quirks presented in the series are far from what most people consider 'superpowers'. When a new Quirk is unveiled because you know it's going to be a unique experience!! Of course, some are better than others, but it's not what Quirk you have, it's what you do with it!
5. Most Importantly, it Can Also Make You Cry
Filled with bittersweet moments and inspirational events that strike you square in the chest, this anime has it all. Happy tears, sad tears, fist-pumping tears – you name it. The characters their story and struggle will make you catch lots of feels. The unexpected moments for the fans are implanted in the series to make everyone cry. And this makes the series vulnerable for the fans.
4. Action Packed Sequences
The Series is filled with Action; you cannot deny the level of action which occurs in the series. The sequence of event and fights where they take down villains or their colleagues are quite impressive. Every movement is a feast for the eyes. Whether a character is leaping into action or powering up their Quirk, you are in for a treat! And this is one specialty which makes the series unique.
3. Teacher & Student Relationship
Several anime depicted this relationship beautifully, Like in Naruto, Hunter X Hunter, Dragon Ball Z. Meanwhile, the relationship between IZUKU MIDORIYA and ALL MIGHT as student and teacher is great to follow. All Might guides and trains Izuku to an unbounded limit. This is something interesting to trail in the whole series.
2. Interesting Character Development
The diverse range of characters and their array of different Quirks are at the heart of why this anime is so good. Each and every one of the main characters or the side characters get a chance in the limelight, whether it's a short one or two-episode arc or a season-long saga. We get to spend a lot of time with the rest of the extended cast outside of the main line-up. But, that's not all, the side characters are just as interesting, if not more so than the main characters.
1. Inspiring Storyline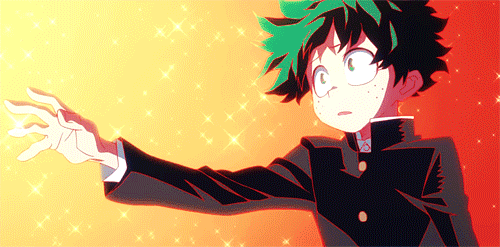 My Hero Academia drives home the message that everyone has the potential to achieve great things. The caliber of a hero is determined, not by their abilities but by their willingness to do their best even when it seems all hope is lost.  You don't have to have a flashy Quirk or wear a costume to save lives. Sometimes all it takes is a smile and a whole lot of determination to save the day!
If you haven't watched  My Hero Academia, I Highly Recommend it. This Anime is Certified Legendary 
gigglingdonkey
I'm a 22 year old Anime blogger, currently studying for my masters in finance and control. To be honest, I have absolutely no desires to become a taxman. I am just an ordinary guy with everything to lose!