Top 10 Best Anime of 2018
The year seemingly keeps moving faster with every day, and the anime keeps coming. It's hard to believe that another year has come and gone, delivering so many fantastic anime series along the way. Whether you're joining alongside Midoriya as he trains to become the greatest hero of all time, witnessing the tedium of office work life which will make you want to scream or have front row seats to a world of boxing.
Where people now wear mechanical gears to punch even harder; 2018 has been an incredible year in anime. It can be really difficult to sort through all of the available series to find the best of the best.  We should be sure to take a few moments to appreciate the very best of anime from this year.
10. JoJo's Bizarre Adventure: Golden Wind
The highly anticipated fifth installment in the foundational shōnen series JoJo's Bizarre Adventure finally premiered this year and managed to exceed every expectation. Golden Wind is a gorgeous anime with one of the most likable collections of protagonists yet and some of the most creative fights in the series so far.
Giorno's journey to use his supernatural powers to stop the spread of drugs in his community is both deeply understandable and terrifically bizarre. Golden Wind so far feels like one of the most refined installment of JoJo's yet. Hopefully, this level of quality keeps up for the entirety of part five, and it stays golden going into 2019.
9. Devilman Crybaby
Based on the classic Devilman manga, Devilman Crybaby follows the gory adventures of Akira Fudo after a demon fails to possess him. Now with the powers of the demon – and some of his personality traits – Akira takes on the name Devilman to fight other demons that threaten to consume humanity.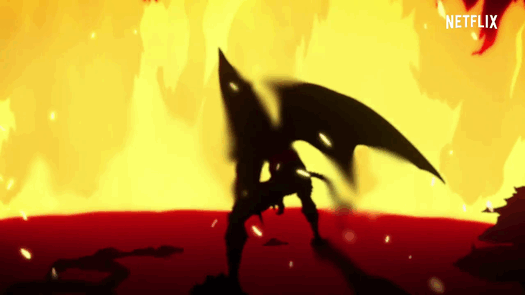 Devilman Crybaby never stops being shocking, and it's willing to go pretty far to prove its points about how needlessly violent and cruel people can be. Devilman Crybaby is one of Netflix's anime masterpieces.
8. Wotakoi: Love is Hard for Otaku
Wotakoi follows an office worker named Narumi Momose, who hides the fact that she's an otaku in her public life because it's led to issues in past relationships. When she starts a new job, she runs into an old childhood friend, Hirotaka Nifuji, who accidentally outs her as an otaku to some of their co-workers. Those co-workers, Hanako Koyanagi, and Taro Kabakura are not only secret otaku as well but have been in a relationship since high school, which their co-workers also don't know about.
Wotakoi addresses the hardships in being an adult that loves anime or manga, things that most of the world still deems weird and childish, while also showing the two couples navigate their relationships. The anime is filled with heartwarming scenes and moments that are so relatable. If you wanted to ever watch a more relatable romance anime, this show is for you.
7. The Ancient Magus' Bride
The series follows the adventures of Chise, a young girl with a dark past who sells herself on the black market only to find herself bought by Elias, an ancient, incredibly powerful mage with a deer-like skull for a face. He reveals that she possesses a rare gift for talking with and attracting spirits and that he will train her to become a mage – and one day marry her.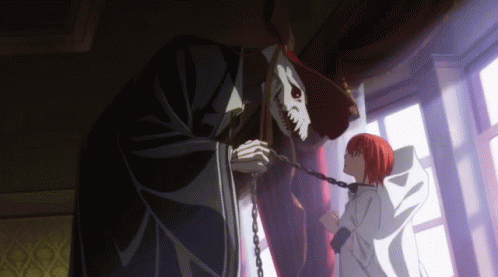 The Ancient Magus Bride has been able to succeed in making magic feel, well, magical. The esoteric spell casting, the unique solutions to magical problems, and the empathy it shows all of its characters really do a lot to elevate the series over comparable shows.
6. Attack on Titan: Season 3
The third season of the uber-popular Attack on Titan anime premiered this year and pushed the series into a new direction. this latest storyline resembled a political drama more than anything else. This story structure works surprisingly well for the anime and capitalizes on its rather fleshed out world and collection of big personalities.
There's a lot to like in the third season of Attack on Titan, even if it doesn't have much of the Titan fighting action that popularized the series in the first place. However, this new direction for AoT works surprisingly well and explores the background of some of the most interesting characters in the franchise.
5. Violet Evergarden
The highly acclaimed Kyoto Animation brings the Netflix exclusive Violet Evergarden to life with the beautiful scenes you'd expect from the studio. Our protagonist is Violet Evergarden, a former child soldier who has only known the battlefield before losing both of her arms and her commanding officer in the final battle of a brutal war.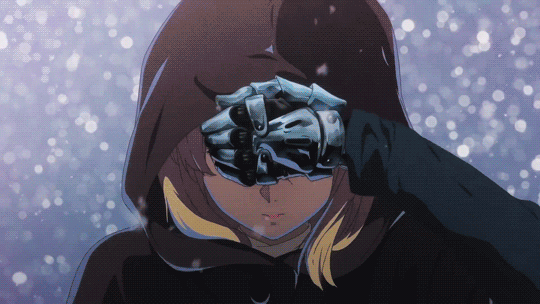 After losing both of her arms and having them replaced with metal prosthetics, she has to learn how to integrate back into society as an Auto-Memory Doll, which is essentially a trained ghostwriter for books and letters. IIt's sweet and satisfying to watch Violet grow and learn about the complexity of human emotions, a journey complemented by gorgeous animation.
4. A Place Further Than the Universe
A Place Further Than the Universe is a simple coming-of-age story about four teenage girls together on a boat … to Antarctica. Each girl has her own reasons for wanting to go. Mari wants to make the most of her youth after being too scared her whole life to ever try anything hard, Shirase wants to find her mother who went missing in Antarctica three years prior and is presumed dead, Hinata wants to do something adventurous before taking her college entrance exam, and Yuzuki is an actress who's never had friends and wants to go with the three after they go out of their way to befriend her.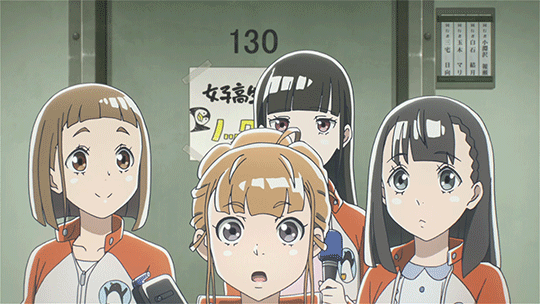 A Place Further than the Universe packs a tremendous amount of well-written humor, drama, and character development into its 13 episodes, telling a bittersweet story about four girls struggling to overcome their shortcomings as they attempt to achieve an impossible goal together.
3. My Hero Academia: Season 3
After just three seasons, My Hero Academia has already become one of the greatest Shonen anime and manga of all time. This season is the start of a big shift in the series, with some major action scenes, important turning points, and long-awaited moments. The existential threat of the villains becomes more real as All for One starts to make moves, and we finally get to see what his protege Shigaraki will be like once he's out of his mentor's shadow — and how Midoriya plans to make One for All his own.
In a year where anime seemed bigger than ever, My Hero Academia absolutely played a pivotal role in pushing the medium to even greater heights and even wider audiences. My Hero Academia stands out not just as a great anime, but also one of the greatest superhero stories ever told.
2. Aggretsuko
Based on a series of web shorts that introduced Sanrio's "Aggressive Retsuko" a few years ago, Aggretsuko made a splash simply because it was so … well, relatable. Aggretsuko stars Retsuko, an adorable red panda who has been ground down by five years of working the same dead-end accounting job.  Retsuko lets at her frustrations about her dead-end job, misogynistic boss and love life every night through Death Metal karaoke songs. Throughout the series, she navigates loneliness, misogyny and being single less than gracefully.
It's more surprising because of how brutally it portrays the hardships women have to deal with in the workplace and in society in general. But it also shows that, despite these daily hardships, you can find ways to make things better.
Before we reveal our best anime of 2018 there are few Honorable Mentions
Honorable Mention 1 – B: The Beginning
Honorable Mention 2 –  Zombie Land Saga
Honorable Mention 3 –  Hinamatsuri
Honorable Mention 4 –  Cells at Work!
Honorable Mention 5 –  Laid-Back Camp
1. Megalo Box
If you're a fan of Rocky or Creed and in any way interested in animation, Megalo Box has to be on your list of anime to watch. Taking place in and around a wealthy futuristic city, Megalo Box is about the sport of Megalo boxing, where fighters have powered exoframes on their upper bodies that augment their strength and speed.
The series follows a boxer who initially goes by the name Junk Dog as he tries to work his way up from making money by starting fights in the slums outside the city. He wants to take part in Megalonia, a tournament made up of the best Megalo boxers. The show recaptures the '70s and '80s, thanks to its cyberpunk aesthetic and themes that touch on a lot of the class struggle. The retro aesthetic of the show makes it stand out in a world of glossy high-definition anime.
Did Your Favorite Anime MakeThe Cut? Please let us know what you think in the comments below!
gigglingdonkey
I'm a 22 year old Anime blogger, currently studying for my masters in finance and control. To be honest, I have absolutely no desires to become a taxman. I am just an ordinary guy with everything to lose!