Top 10 Anime That will Fill You with Christmas Joy
Ho Ho Merry Christmas Everyone! The holidays are getting closer and closer, And the weather is finally cold enough to have an excuse to stay inside and watch your favorite anime. When it's time to get in the holiday spirit, there's nothing quite like sitting down to enjoy some Christmas anime. 
We've got 10 recommendations for you right here. And because it's anime, it can be enjoyed by everyone, regardless of beliefs or upbringing. 
10. My Neighbor Totoro
The movie is an utterly delightful tale of a young girl who moves into an old house with family and befriends a big, furry creature that lives in the forest. The film combines charming animation, sweet humor with just the right amount of melancholy. 
While it's not actually set during Christmas, a little Studio Ghibli is always a good idea at Christmas. My Neighbor Totoro is arguably a Hayao Miyazaki's best work – which is saying something for the director of Ponyo and Spirited Away. 
9.

Love 

Hina

 

Christmas Special
Rumor has it that the first Christmas of the millennium is a particularly important time of year if you confess your love on this day, it will come true. As you can imagine, it creates quite the stir and forces Keitaro to make some tricky decisions. 
 This is the oldest anime on the list and it comes from a very well-known, classic harem anime. It's obviously centered around Christmas, it has your typical comical harem moments and of course, romance. This is a cute, Slice of Life Christmas special you should watch at least once in your life. 
8. 5 Centimeters Per Second
After spending years together and bonding over their shared differences, Takaki Toono, and his close childhood friend, Akari Shinohara are separated because of Akari's family's job. While they try their best to keep in touch at first, and even meet up one time, life continues and they slowly lose touch, never really forgetting about each other or their past together and always wondering if they'll meet again. 
5 centimeters per second is definitely a drama and it's not a movie about or set around Christmas. But there are many drop-dead gorgeous animations, and it also shows the beauty of Japan in its snowiest and most romantic of states, through the eyes of a visual genius. 
7.

The Disappearance of 

Haruhi

 

Suzumiya
One cold Christmas day, Kyon heads over to the school and the SOS Brigade's holiday celebration, only to realize that Haruhi Suzumiya seems to have disappeared. Moreover, no one even remembers her or the SOS Brigade; Mikuru Asahina knows nothing and is now afraid of him, and Itsuki Koizumi has also gone missing. The Literature Club, formed only by an uncharacteristically shy Yuki Nagato, now occupies the old SOS club room. 
When it comes to popular anime, none of them get quite as odd as the Haruhi Suzumiya franchise. Known for its quirky characters, memorable antics, and musical sequences, the film continuation of the show sets a much more somber tone. 
6. Wolf Children
Wolf Children centers itself around a hardworking college student named Hana who falls in love with a mysterious man that attends her classes but isn't actually enrolled in school. Even after she finds out that this person is a werewolf, the pair develops a powerful bond that culminates in two children named Yuki and Ame. When a tragedy befalls her husband, Hana finds herself with the difficult task of raising two shape-shifting beings all on her own.
The importance of family and the undying love of a mother are the centerpieces for the movie. Hana is everyone's mother and she reminds us just how much our parents, but especially our moms, given to us each and every day. You'll definitely want to hug your mom after seeing this. 
5.

Chocotto

 Sister
During Christmas time, Haruma Kawagoe was looking forward to having a little sister, but his mother miscarried. Saddened and worried, he prayed with all his heart for his mother to get better and wished for a little sister. Years later, he's in college and on Christmas, he finally gets the present, he wished for so long ago, a little sister! Luckily, Choco comes with an instruction manual.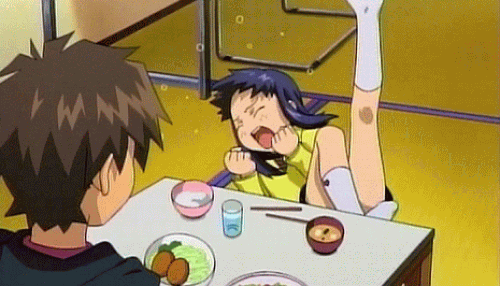 Chocotto Sister has a great blend of Drama, Comedy, Slice of Life and a bit of Ecchi. While the beginning sounds a bit sad, it is the set up for many funny, sweet moments ahead. This anime will bring a good mix of excitement to your holiday viewing! 
4. Winter Sonata
Winter Sonata is a touching romance anime based on a Korean drama of the same title. The love story focuses on Yoo Jin, who has decided to marry a dear childhood friend after tragedy snatches away the man she fell in love with. As fate would have it, however, it seems like her late love is more than just a distant memory. 
Its gorgeous artwork allows the characters' expressions to better affect the viewer as well as pushing people into the setting. It isn't a lighthearted show to binge during the holidays, but an important one of those who can handle a tearjerker over Christmas. 
3.

Itsudatte

 My Santa!
The protagonist, named Santa, was born on Christmas Eve, but he hates anything that has to do with Christmas. His attitude changes when he meets a girl named Mai, who's practicing to become a real-life version of the man in red. Mai needs to use her Christmas spirit to change his opinion.
The anime has a storyline you would expect from most holiday movies, but delivered with all the quirk and emotion you would expect from a great anime. In the end, very few anime has as much Christmas-related imagery as Itsudatte My Santa! 
2.

Tokyo Godfathers
Hana, Miyuki, and Gin are homeless. While going through the garbage on Christmas Eve, they find an abandoned baby named Kiyoko. Along with the baby, there are clues as to the identity of the parents, so they set out to find them.  
Their adventure finds them involved with the Yakuza, preventing people from dying and witnessing Christmas Miracles. Tokyo Godfathers is a warm, uplifting tale with some beautiful animation. It's hard to think of an anime that is packed with more holiday spirit than Tokyo Godfathers.  
1.

Toradora

!
Toradora follows a group of friends whose love lives create one tricky web of relationships. The anime as a whole is not holiday-themed, but the "Christmas Eve Festival" episode will take your emotions for a serious ride. Toradora will warm your heart as much as it will break it, Friendship and its trials, as well as the sacrifices needed to keep one intact, are explored thoroughly in this anime. 
It's a show that explores how relationships develop and change over time, and teaches audiences the importance of accepting people for who they are. No one is perfect. Rather, our imperfections bring us closer together.
Honorable Mentions:
1. Strawberry Marshmallow
2.

K-On!
3.

Lucky?Star
4.

Is the Order a Rabbit?
Do you have a favorite you want to share with us? Let us know in the comment below Have a very merry Christmas and an incredible anime New Year! 
gigglingdonkey
I'm a 22 year old Anime blogger, currently studying for my masters in finance and control. To be honest, I have absolutely no desires to become a taxman. I am just an ordinary guy with everything to lose!