The GTA Remakes Are a Disaster!
Warning
: Undefined property: stdClass::$type in
/mnt/data/home/572487.cloudwaysapps.com/scrukjmdye/public_html/wp-content/themes/theissue/inc/misc.php
on line
68
On November 11, Rockstar Games released the remastered version of their old PlayStation 2 games as Grand Theft Auto (GTA): The Trilogy – Definite Edition.
These are some of the best games on that console generation and are held in extremely high regard. Unfortunately, Rockstar did their fans dirty by releasing three messy and unfinished games that have hilarious broken glitches. Looking at the games' current states, it's crazy to think about how this was given the green light.
The New Cyberpunk Disaster
All over social media, people have taken to call the remasters GTA: Cyberpunk and it makes total sense why they would call it that. When Cyberpunk 2077 was released in late 2020, it was riddled with bugs and glitches that made the game unplayable. The poor quality of such a highly anticipated title was shocking, to say the least, and it led to a massive backlash.
The Grand Theft Auto remasters are suffering from the same.
#GTATrilogy that san andreas remake has really shitty audio issues, listen to how fucking quiet the bike is lmfao 💀💀💀 pic.twitter.com/TqnqqC0sg5

— Elliot 🎶🎷🐛 (@axolware) November 13, 2021
The remasters are like a bad acid trip: characters get stuck in the air, people fall through the floor into a void, body parts on models are either melting or extending like five feet away, the list goes on. There are so many bugs that there is an hour-long video on YouTube showing them off.
This is the worst looking rain I've ever seen in a video game. pic.twitter.com/JF8DrZ2Nd8

— GmanLives (@GmanLives) November 12, 2021
By far, the most perplexing problem is the rain. The rain has this weird glow to it that makes it difficult to see through when the night is set. Because of the rain, certain driving missions are impossible to complete. You end up hitting a wall or driving off a cliff.
Fan Takedown
To add insult to injury, before the remaster versions came out, Rockstar removed the original versions of GTA III, Vice City, and San Andreas from all the online stores they were available in. No warning, no heads up, just pulling the plug suddenly. And on top of that, the studio went around with DMCA notices to take down tons of classic GTA mods angering the fans.
SilentPatch for The Definitive Editions? Let's see:
* Take-Two/Rockstar took down mods, in hindsight almost definitely seeing them as a "threat" to those releases
* re3/reVC lawsuit hasn't even properly started yet
* Original games are gone
* There's been 0 information on…(1/4)

— Silent (@__silent_) November 10, 2021

See Also
A popular GTA modder who goes by the name Silent told Kotaku that he was happy to see the backlash. He likes the fact that people have finally had enough of Rockstar, although he's a little skeptical whether anything will change. The studio has even sued the small team who were behind a project that would have made GTA III and Vice City easier to tweak.
Needless to say, players aren't happy.
Suppressed Features
And if that wasn't enough, Rockstar removed the ability for people to purchase the PC versions from their website. The studio said in a Tweet that there were some files in the games that weren't supposed to be there and wanted to remove them.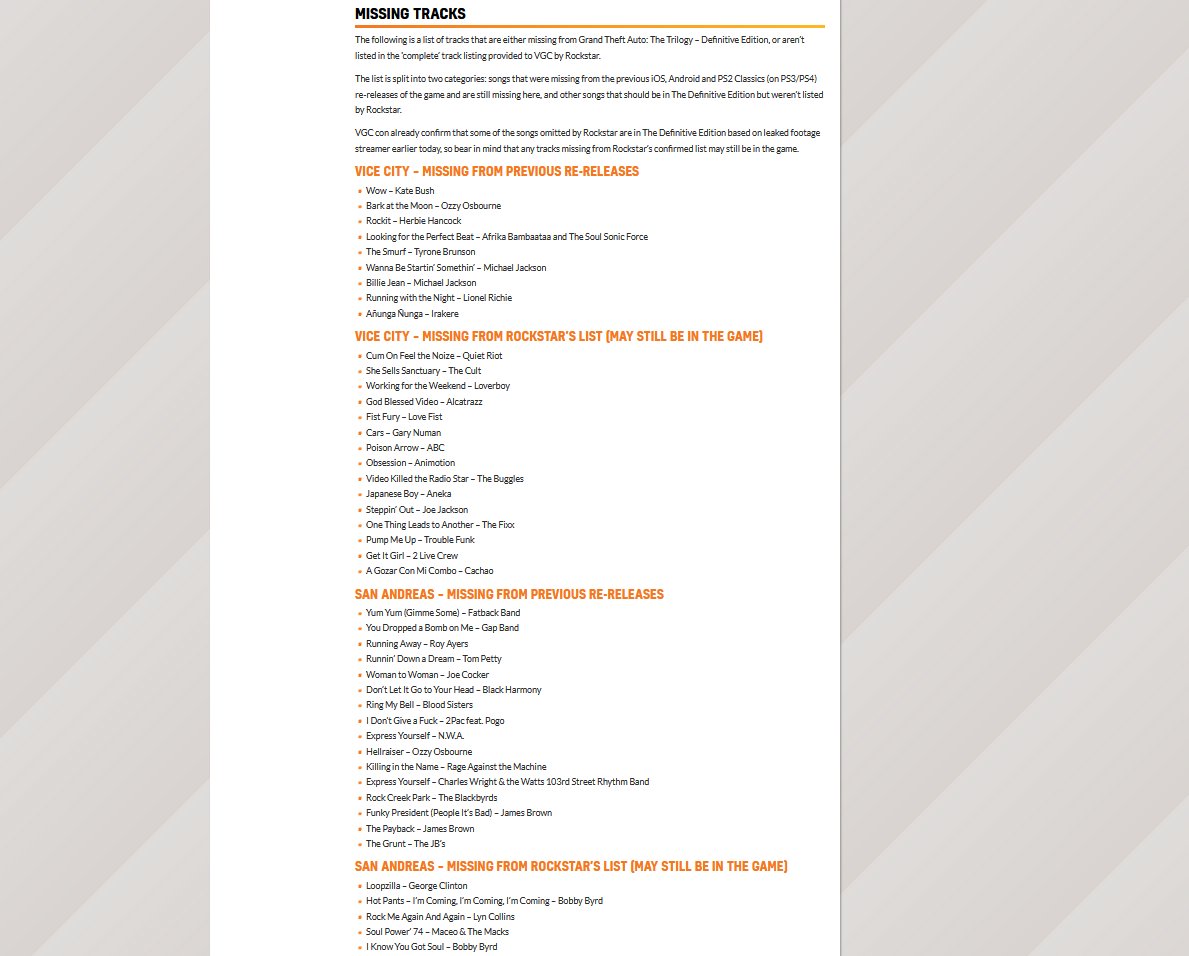 Players started to dig through the game's files and discovered a ton of content locked away. Much of San Andreas' music was removed because of copyright issues, but people discovered that those tracks are still in the game, disabled by script.
The launch of Grand Theft Auto: The Trilogy – Definite Edition has been nothing short of a disaster and will go down as a major blunder in Rockstar history. Who knows how the studio will make up for this?