The 10 Best Ecchi Anime for Weirdos and Weebs (YOU)
7. Heaven's Lost Property
Ever since he was a child, Tomoki Sakurai has always woke up with tears after a dream of an angel. His childhood friend Sohara Mitsuki worries about this and decides to seek the help of Eishirou Sugata, an eccentric sky maniac. He concludes that Tomoki's dream is undoubtedly connected to what is known as the New World, a floating anomaly that scientists have failed to understand.
Recruiting the New World Discovery Club's first members, Eishirou schedules a time to meet up in order to observe the mystery in the sky. That day, Tomoki's peaceful life is changed forever when a strange girl falls from the sky and begins to call him master.
6. Zero no Tsukaima (The Familiar of Zero)
Ripped from his normal life in our world to a land of magic and fantasy, Saito Hiraga has just been summoned as a familiar to a very cute, very flat mage. His new magic wielding master Louise Françoise Le Blanc de La Vallière, along with having an unreasonably long name, is also a very unique mage in her academy.
Zero no Tsukaima is an "I'll just watch one more episode" kind of series that you will have no difficulty marathoning. It does a good job of balancing a magical world filled with comedy moments and fan service, with more serious story sections that are accompanied by some great character development and an ongoing sense of urgency. The romance between Saito and Louise is always at the forefront of the series, with their relationship playing a key role throughout the story as well as being super cute if a little violent.
5. Yosuga no Sora
Western audiences weren't the only ones squicked out by the overt incest-y nature of this show. While it has a loyal if niche fanbase, Yosuga no Sora as well as other sister-complex themed anime have all received complaints. If you've heard of Yosuga no Sora it's probably for one of two reasons: either the borderline hentai levels of ecchi or the incest. Frankly, though, if you can get over the incest part, then the ecchi is great, and the character interactions and story are pretty interesting to watch.
As it's a visual novel adaptation, Yosuga no Sora is done in an omnibus format with each girl's route getting a few episodes before the timeline resets. Despite the resets, Sora and Haruka's relationship is built up very well throughout the series, leading to a very climactic final arc. Far too hot for TV and demonstrating some questionable moral content, Yosuga no Sora might not be for everyone, but it's probably the ecchiest romance anime you'll ever come across.
4. Sekirei
The story follows a struggling yet brilliant teenager Minato Sahashi who has failed his college entrance exams for the second time, resulting in him being regarded as worthless by those around him. However, the course of his seemingly bleak future is altered dramatically when a beautiful, supernatural woman falls from the sky and into his life. That woman, Musubi, is a unique being known as a "Sekirei," a humanoid extraterrestrial with extraordinary abilities. These aliens are known for kissing humans carrying the Ashikabi gene in order to awaken additional latent powers deep within.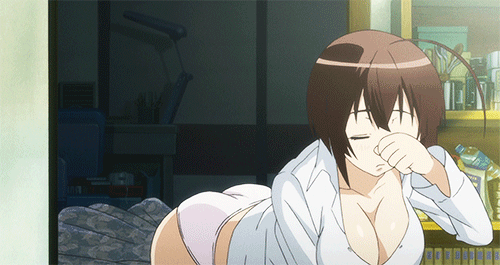 Recognizing the potential within the seemingly insignificant youth, Musubi kisses the bewildered Minato, initiating a bond between the two of them. This drags him into the high-stakes world of the Sekirei, where he and his new partner must compete against others in a battle for survival called the "Sekirei Plan." However, unbeknownst to the contestants, there is far more at risk that what the competition initially entailed.