The 10 Best Ecchi Anime for Weirdos and Weebs (YOU)
While there are plenty of ecchi and romance series about, shows often have some difficulty straddling the two genres, with the more ecchi series not being taken seriously, and the more romantic series lacking in ecchi. It's a fact that ecchi anime shows are taking an upswing nowadays as more and more titles are produced every season as if it's becoming the trend.
10. Highschool of the Dead
It happened suddenly: The dead began to rise and Japan was thrown into total chaos. As these monsters begin terrorizing a high school, Takashi Kimuro is forced to kill his best friend when he gets bitten and joins the ranks of the walking dead. Vowing to protect Rei Miyamoto, the girlfriend of the man he just executed, they narrowly escape their death trap of a school, only to be greeted with a society that has already fallen.
Soon, Takashi and Rei band together with other students on a journey to find their family members and uncover what caused this overwhelming pandemic. Joining them is Saeko Busujima, the beautiful president of the Kendo Club; Kouta Hirano, an otaku with a fetish for firearms; Saya Takagi, the daughter of an influential politician; and Shizuka Marikawa, their hot school nurse. But will the combined strength of these individuals be enough to conquer this undead apocalypse?
9. Nazo no Kanojo X (Mysterious Girlfriend X)
Akira Tsubaki and Mikoto Urabe are an interesting couple, as while he might seem pretty ordinary, she is very much the opposite. Sleeping in class, being generally anti-social, and carrying around a pair of scissors that she wields with a surprising degree of skill, Urabe's nature is quite a mysterious one. One of the stranger romances we've come across, Nazo no Kanojo X's focus around drool is a fairly specific fetish, but none the less a pretty interesting story element to play around with.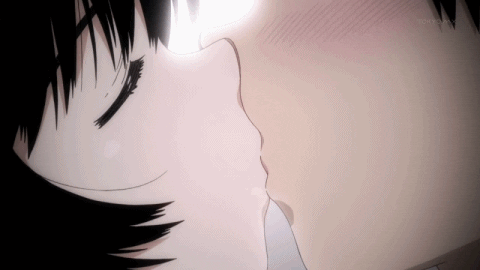 One of the nice things about the series is how Urabe and Akira are such a solid couple throughout when compared to a majority of other ecchi romance series, which tend to be harems. Besides the romance and ecchi of the series, another point worth making is the interesting choice of art style, which although obviously modeling itself on the manga, is also a nice throwback an older aesthetic that we don't tend to see anymore.
8. Monster Musume No Iru Nichijou
With his parents abroad, Kimihito Kurusu lived a quiet, unremarkable life alone until monster girls came crowding in! This alternate reality presents cutting-edge Japan, the first country to promote the integration of non-human species into society. After the incompetence of inter species exchange coordinator Agent Smith leaves Kimihito as the home stay caretaker of a Lamia named Miia, the newly-minted "Darling" quickly attracts girls of various breeds,
Unfortunately for him and the ladies, sexual interactions between species is forbidden by the Inter-species Exchange Act! The only loophole is through an experimental marriage provision. Kimihito's life becomes fraught with an abundance of creature-specific caveats and sensitive interspecies law as the passionate, affectionate, and lusty women hound his every move, seeking his romantic and sexual affections. With new species often appearing and events materializing out of thin air, where Kimihito and his harem go is anyone's guess!
gigglingdonkey
I'm a 22 year old Anime blogger, currently studying for my masters in finance and control. To be honest, I have absolutely no desires to become a taxman. I am just an ordinary guy with everything to lose!