New Life-Size Gundam Statue Landing Next Year
Anime production studio Sunrise and Bandai Namco Group recently announced that they will reveal a new life-size Gundam statue at the Mitsui Shopping Park LaLaport in Fukuoka Prefecture next spring.
The statue will be an original mobile suit named the RX-93ffv Gundam with its design based heavily on the RX-93 v Gundam, as seen in the movie, Mobile Suit Gundam: Char's Counterattack. Instead of saying its full name, the statue will be referred to as "Nu Gundam", sharing the same name as the original.
Nu Gundam
Nu Gundam will be a 1:1 scale model of its inspiration, making it the tallest Gundam statue. The official announcement states that the statue will be around 20 meters tall or 65.6 feet.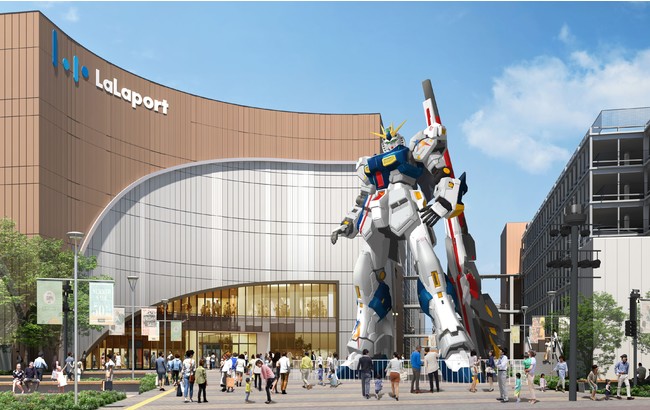 This makes Nu Gundam taller than Tokyo's Unicorn Gundam (19.7 meters) and Shanghai's Freedom Gundam (18 meters). It's even taller than the moving Yokohama Gundam that launched earlier this year; although there's no indication yet that Nu Gundam can move.
The statue will come equipped with its signature Fin Funnel beam saber that you see attached to its back in the mock-up.
Giant Robot Attack
The Nu Gundam statue is designed by Yutaka Izubuchi, a well-known anime designer, screenwriter, and director. Izubuchi is most known for his mech and vehicle designs and for creating/directing the (highly underrated) RahXephon series.
Izubuchi previously designed the Patlabor AV-98 Ingram statue that debuted in the Toyosu area of Tokyo's waterfront. It was eight meters tall (around 26 feet), had lights strewn around it, and was a sight to behold.
Hi-Tech Mechs
In the last several years, Japan has gotten into the habit of hoisting giant robot statues across the country. One of the most famous examples is the giant Tokyo Gundam that stood in front of the Diver City entertainment complex for five years before being dismantled. There are several videos online showing the statue being taken apart piece by piece, even emulating famous scenes in the anime.
ガンダム立像、最後の演出が終わって拍手が。お疲れさまでした、ありがとう。またいつの日か。 pic.twitter.com/BZqSKySPQQ

— enchi (@Enchi151) March 5, 2017
Neon Genesis Evangelion also got into the fray as back in 2020, a life-size replica of Eva Unit-01 was erected in Toei Studio Park. The only catch is that it's just the upper half of the torso. People can take pictures in Unit-01's palm and go inside an entry plug to check out their synchronization rate.
Giant Eva Units
Speaking of giant Evangelion statues, a life-size statue of Rei Ayanami went on sale earlier this year. The statue is 161 centimeters tall (63 inches), including the base, and it's being made by figure maker F:Nex. The company maintains a high level of detail by having sections of the suit rendered in different materials to make it authentic. If you're interested, be prepared to shell out 1.8 million yen (around $17,500).
Conversely, the figure maker also has a scale model of Unit-01 which stands at 234 centimeters (92 inches) in height. While not as big as the life-size statue mentioned earlier, it's still impressive. The big Eva Unit-01 statue has a hefty 3 million yen price tag (around $29,000).
As far as I know, there's no large Gundam statue that can fit in a house like Unit-01. I can only hope that changes in the future.