You Can Get Pokemon Cards at McDonalds RIGHT NOW!
Yes, it's real! Starting February 9th, 2021, for a limited time, McDonald's Happy Meals reportedly may contain some limited edition Pokemon toys, including exclusive McDonald's Pokemon booster packs!
"There are 25 exclusive trading cards to discover, and for the first time ever customers will receive four cards with each Happy Meal purchase."
No Pikachu 😭😭😭 pic.twitter.com/UNCKbnupRu

— AnimeWorld (@RealAnimeWorld) February 10, 2021
There seems to be a mix of OG Pokemon, plus new style ones, something for everyone I guess, though we all know the classic starter Pokemon is probably what everyone is going for.
Here is a full list of the cards you can find in the McDonald's 2021 Pokemon booster packs, FULL CARD LIST.
Limits 5 Happy Meals per Purchase
Due to recent reports of greedy people buying up all the inventory of Pokemon toys, you may encounter a hastily printed sign limiting the order to 5 happy meals per person!
2021 marks the 25th anniversary of Pokemon, and to celebrate the momentous occasion, the Pokemon Company is doing various giveaways with select purchases and special events.
The celebration includes exclusive Pokemon TCG booster packs at McDonald's, special merchandise, and a collaboration with Katy Perry.
The Pokemon franchise was introduced to the world in 1996 with the first generation of games, Pokemon: Red and Blue, and since then it's enjoyed massive popularity the world over.

These Cards are a McDonald's Exclusive
 The Pokemon Company has partnered up with McDonald's to give away a 25th Anniversary Special Edition McDonald's booster pack of Pokemon TCG cards with every Happy Meal. Each of the packs will include four exclusive and they feature all of the starter Pokemon you get at the beginning of every game.
Beginning today, celebrate Pokémon's 25th anniversary with @McDonalds! Inside every Happy Meal you'll find a special pack of Pokémon TCG cards and a "toy". https://t.co/KSDA1vksro pic.twitter.com/ixUi4Y0qOX

— Nintendo Wire (@NinWire) February 9, 2021
Be sure to get them while supplies last because they're only available for a limited time or until the scalpers take everything. The sudden popularity of Pokemon cards has led to some not-so noble people going after cards.
P25 Music
Pokemon has also teamed up with Universal Music Group to work with a variety of different musicians to released Pokemon-themed music that will be released throughout the year.
In January, it was announced that Katy Perry is one of the confirmed musicians who will be making a Pokemon-themed song (maybe something on Slurpuff given California Gurls?)
A small snippet of the song can be heard at the end of the 25th Years of Memories video shown above, which in itself is a fun walk down memory lane.
Collaborations with Other Companies

In addition to McDonald's, Pokemon is partnering up with other major brands for special promotions and merchandise. The Build-A-Bear workshop has been announced to be one of those brands, further adding to their already established Pokemon plush toys.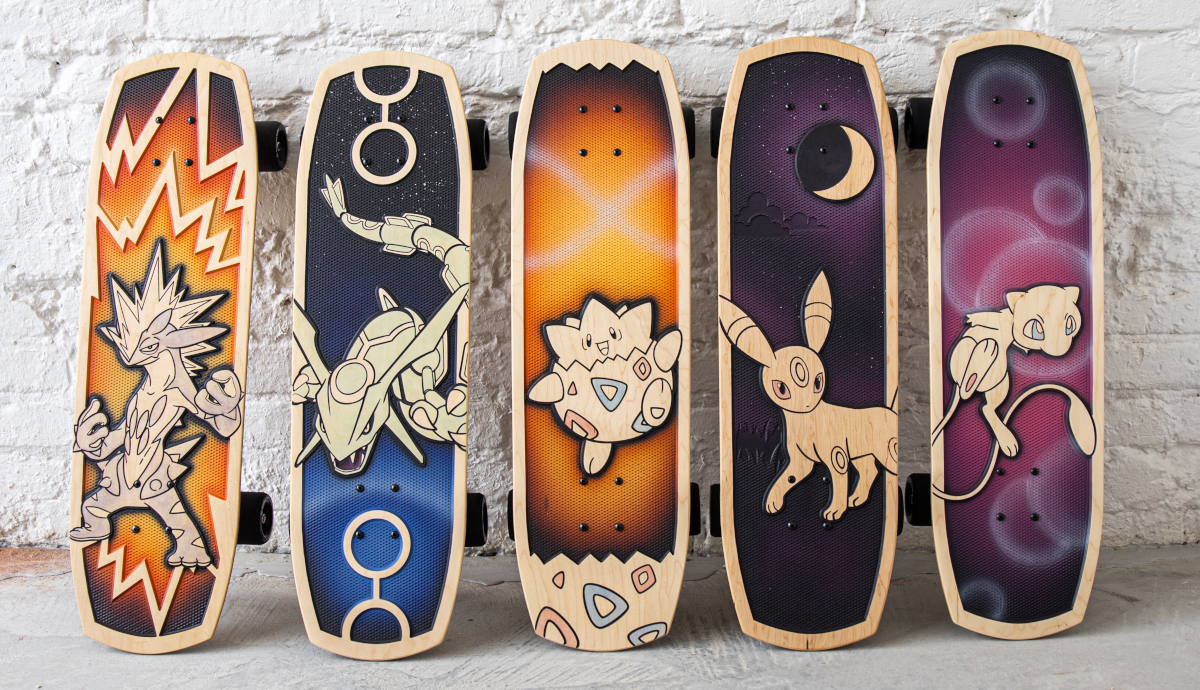 Skateboarding company Bear Walker will be releasing limited Pokemon-themed skateboards that look absolutely amazing. They're not available for purchase yet, but you can pre-order them on Bear Walker's website, and they're only available to American and Canadian customers.
Pokemon GO: Kanto Event
Coinciding the 25th Anniversary is the 5th Anniversary of Pokemon GO. Known as the Kanto Event, the event is on February 20th and starts at 9 am sharp until 9 pm local time.
During this event, Pokemon from the Kanto region will be appearing everywhere and players would have to choose between a Red or Green version. Like the handheld games, exclusive Pokemon are available to certain versions.
⭐ Themed Collection Challenges
🗓️ Full event schedule
✨ Shiny Ditto
🔬 Masterwork Research
And more!

Time to do some reading, Trainers! Learn more about what to expect during our upcoming Kanto-themed #PokemonGOTour event. https://t.co/6WYj7ZY6u3 pic.twitter.com/Lreh5iHtlj

— Pokémon GO (@PokemonGoApp) February 9, 2021
And to further sweeten the deal, all of the Pokemon in this event will available as their Shiny versions, some for the first time.
You can visit the Pokemon 25th Anniversary website here to keep up with current updates.
Limited Supplies
Are you going to rush out to McDonalds to see if you can get your favorite card?
So what are you looking forward to for Pokemon's 25th Anniversary? I'm looking to buy that Toxtricity skateboard. It's my favorite Pokemon that came out of Sword and Shield and to see it get its due brings me to tears. I will for sure be copping that. To be honest, I'm not really looking forward given Pokemon's history with music.