Everything You Need to Know About the Wendy's Anime Meme
The Wendy's "smug anime girl" meme is the internet's reaction to whoever runs Wendy's twitter account. The source of this meme stems from a few noteworthy roasts Wendy's served to its haters on Twitter. Here's some of the popular memes and their references.
1. "LOL They Blocked Us!"
This stems from an interaction between Hardee's (A.K.A Carl's Jr) and Wendy's on Twitter.
According to iSpot, we can see airings of Wendy's 4 for 4 commercials as early as 2015. FoodBeast reported Hardees' 4 for 4 deal in January of 2016, after noting that McDonalds and Burger King had already implemented their own deals. It certainly looks like Haree's came late to the game. And we had to google it just to be sure!
Posts: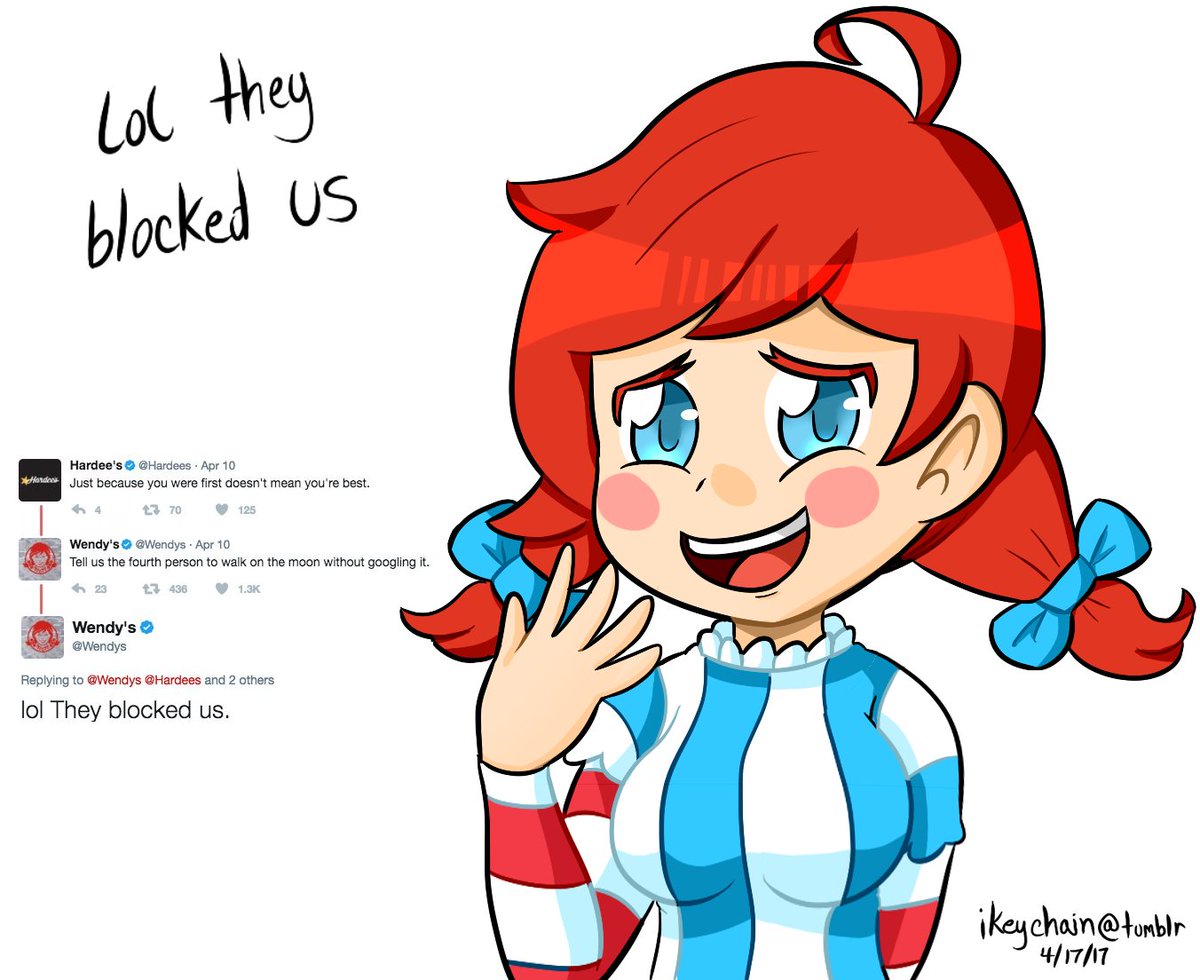 2. Forgot What a Refrigerator Is
Thuggy-D's roasting will forever be immortalized in the form of anime memes. Here's the Twitter convo:
Wendy's highly trained Social Meme Manager responds with a kind and professional response at first.
Thuggy-D, like a typical thug, cowers when put in a corner and calls for backup from his ghetto clown, McDonalds! Let's see if McDonalds, stands up for him?
Owned…. A Meme worthy interaction for sure!
@NHride You don't have to bring them into this just because you forgot refrigerators existed for a second there.

— Wendy's (@Wendys) January 2, 2017
Sample:
You can even get this as a chrome theme!
3. Wendy's Logos
This one is pretty self explanatory; People making some sassy Wendy's logos.
4. Is Wendy's Aware?
Of course they are! Conversations on SpaceBattle's Forums reveal this fact.
Wendy's has re-tweeted a number of fan posts, including posts from GameGrumps and others. We have searched far and wide, unfortunately this is the closest Wendy's has gone to retweet anything "anime" related…
Not even Wendy's Japanese Twitter account has picked up on the animemes, though they do, in fact, have some anime content:
5. Is the Mainstream Media Interested?
Of course, American Main Stream Media is completely clueless and ignorant. (This is why the libtards lost the election in the first place.)
All we see is reports from Fox and The Verge about how Wendy's reportedly tweeted a "hate symbol."
According to the Anti-Defamation League, Pepe the Frog is classified as a "hate symbol." Of course, we must consider that these irrelevant organizations are willing to do anything to push their anti-Trump agenda, so this is really nothing to take seriously. Wendy's didn't do anything wrong.