Everything So Far about the Kyoto Animation Studio Incident 2019
https://twitter.com/TheImpactPanda/status/1151728537625341953
On the morning of July 18, just around 10. A single man walked into an animation studio and committed one of the most heinous crime in recent history. Shinji Aoba now in custody committed this crime and said one of the vilest sickest things before he turned 33 innocent people, who gave so much to the people all around the world, into unrecognizable even to their parents.
The Incident
At 10:30 (01:35 GMT) on Thursday, Shinji Aoba walked into Kyoto Animation Studio, poured gasoline all around the facility. and started the fire by screaming one of the despicable words "Die!". What makes this more chilling he was ready to die for his cause.
Fire quickly engulfed the three-story building, then came the explosion. It is to be known that 70 employees were working at that time when this atrocity befell.
30 fire trucks were dispatched after hearing the news. 3 hours later, we found out about the deaths of all those employees and said there could be more trapped inside of the building. Only 7 people managed to get out of the building right in time, 17 people, including the arsonist, remain hospitalized. 18 victims have gone home after their treatment but 33 people (12 men, 20 women, 1 nonspecified gender ) lost their souls to one man losing all of his sanity.
"It was like I was looking at hell," a local woman described her experience at the scenario to Asahi Shimbun newspaper.
Momoko Higuchi, a Tokyo-based architect, told Reuters
"that the blaze was probably made worse by the building's three-storey spiral staircase, which would have "[acted] as a chimney."

"Because the fire was with petrol, the effect was like a bomb," Mr. Higuchi added.
The Suspect
The suspect of this crime was a 41-year-old arsonist Shinji Aoba, who purchased two 20-liter (5.3-gallon) cans of gasoline at a neighborhood gas station. Then he proceeded to do what he intended to do. He himself got burns from his own actions. and got caught by police within the 100 meters from Kyoto animation studio.
The Motive
Shinji Aoba accused Kyoto Animation studio of plagiarising his novel. Very few details to be known this time. Police would start the investigation after the doctors treat his wounds.
He has a criminal record of stealing money from a convenience store.
*update* It is now learned the security system was shut down the day of the attack. Witnesses also report arsonist said, "They stole my novel, so I set the fire."
The amount of evilness carries only just within 10 words.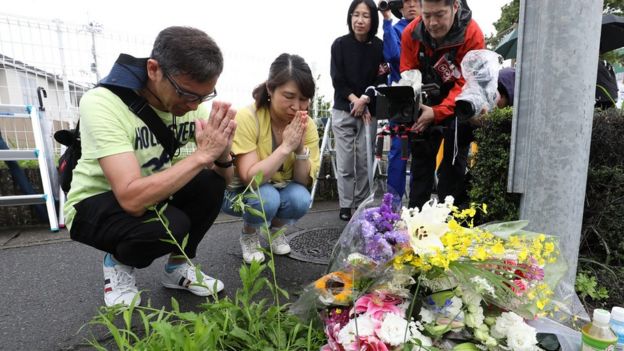 After Effect
Where there is a tunnel filled with hate there is a tiny hole of love. Which was given to Kyoto animation after this incident by floods of people, who have enjoyed their artistic story through animation. Many of these animes helped the viewers. Now they returned the favor by crowdfunding more than $1.3m (£1.04m) to those people suffered from the monstrous crime.
Many of the fans went to twitter to show support
Kyoto Animation are a rarity in the anime business: they treat their people well, they strive to own part of their works, and their creations are consistently excellent, at the very least on a technical level. Hoping to hell everyone is OK; the article reports some injuries. 🙁

— Mike Toole (@MichaelToole) July 18, 2019
It utterly breaks my heart after hearing what happened to #KyotoAnimation. It was through most of their titles that got me closer to the anime fandom, and made some of my favorite titles of all time.

Thank you KyoAni, for making my life a little more brighter. pic.twitter.com/bu1GB6VO59

— Asher Edlin (@TheAfroOtaku) July 18, 2019
"One of the main things that stands out about Kyoto Animation is the quality of the animation itself, It's very viewer-friendly."

The distinctive visual style and level of polish leads to a look that is instantly recognisable,

The studio makes very little in the way that is controversial… little that is violent or sexual. I can't imagine why anyone would want to attack it." said Ian Wolf, an anime critic for Anime UK News.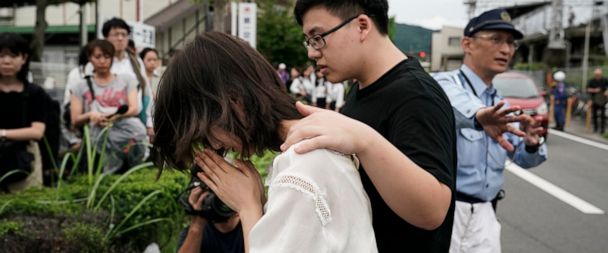 The studio has dropped screenings for the trailer of their latest film. The president of Kyoto Animation has said the studio has been receiving death threats for years.
Yasuhiro Takemoto presumed to be one of the employees who have gone missing. He was the animator behind "Dragon Maid," "A Silent Voice: The Movie Amagi Brilliant Park," "Free! -Iwatobi Swim Club-," "The Disappearance of Haruhi Suzumiya, K-ON!," "Clannad" and "Lucky Star and Melancholy of Haruhi Suzumiya."
How Can You Help?
Through all of these dark clouds came a ray of hope from the people who know how to fight the word terror and overcome it without giving in. To all those people who have lost their life too soon. It breaks my heart but at the same time, it fills it with courage that these 33 people left something special while they were here. Although the time they spent here may be little, But the impact they had left on the culture can be filled through all those fans who voiced their support for Kyoto.
If you want to help these people who have entertained you. just do it by clicking the link below
Note: We are not sponsored by or affiliated with this campaign in any way. 
Comment below let me know about the anime from this studio that you enjoyed the most.
Furrybearpanda
I'm 22.I don't have a story for you to read because I don't know the sequel to my life.The only thing I have right now is the prequel and we all know a prequel without the sequel is just the Quel.. so NO!