Aniplex has announced a Nier: Automata Anime Adaptation is in the Works
For the game's five-year anniversary, anime distributor Aniplex announced that a Nier: Automata anime adaptation is currently in the works. Aniplex dropped a teaser trailer not showing off much, but it definitely has the look and feel of Nier: Automata.
Although not much was shown or announced besides its production, there's a lot we can speculate on. A website has been put up with more news on the way.
Future Dystopia
For those who don't know, Nier: Automata is a game about three androids (2b, 9S, and A2) who are foot soldiers in a war across robots who have completely overrun Earth. All of humanity has left the planet and now live on the moon until the day comes when all the machines have been destroyed and mankind can come back and reclaim Earth.
Everything that lives is designed to end.
We are perpetually trapped in a never-ending spiral of life and death.

The smash hit action RPG from @SquareEnix, NieR:Automata announces an anime adaptation! pic.twitter.com/SFNw35J5xk

— Aniplex of America (@aniplexUSA) February 23, 2022
However, things go horribly wrong for our three protagonists as the war revealed a forgotten truth about androids and humanity.
From what we could see in the trailer, there's the main character 2B standing next to her robot sidekick Pod 042 and wielding her katana, Virtuous Treaty. And that's pretty much all we can glean from the trailer. We don't know the studio behind the anime, how many episodes, or when it will premiere. Given that Aniplex is behind the adaptation, a giant of the anime industry, I think it's safe to say we're in good hands.
High Impact Violence and Breaking the Fourth Wall
There are three things that Nier: Automata is known for: its amazing gameplay, deep and profound story, and breaking the fourth wall. The game is known for its beautiful and fluid gameplay where you dash around, slicing robots to pieces with the greatest of ease. The story is fantastic and branches off in all of these different directions. Even if you play the game once, you've only scratched the surface.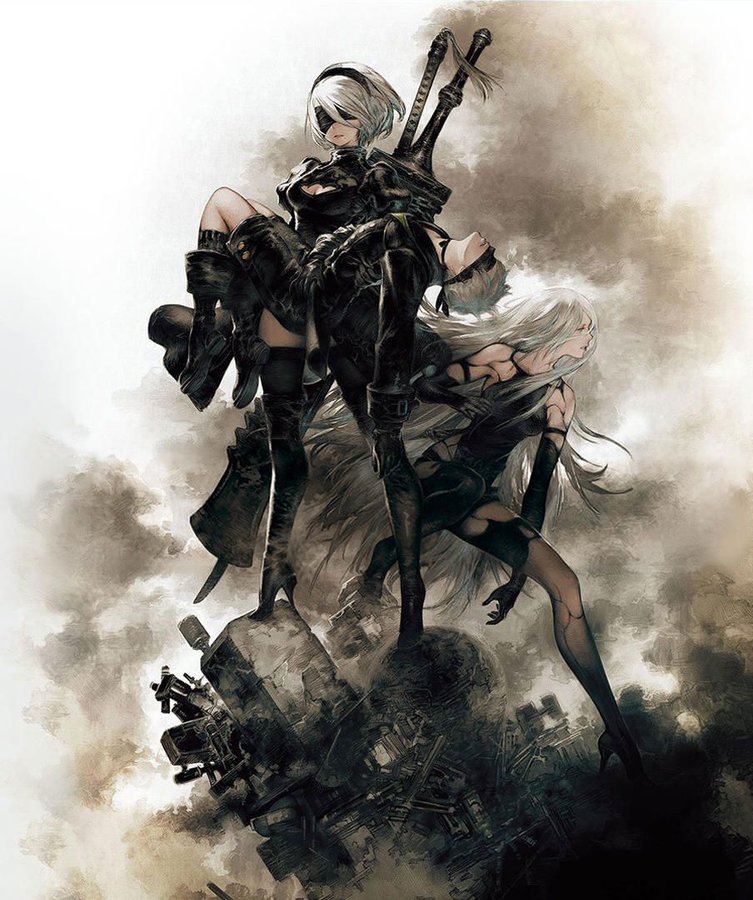 But also, the game is known for messing with the player. There are a lot of jokes that seem to be talking to the audience directly and downright weird moments. The game's director, Yoko Tako, is known for messing with fans.
【NieR:Automata】

– 5th Anniversary –

—
A2 : Lenneth pic.twitter.com/GVvEsnDO0x

— Lenneth🌿🐑🐄 (@Lennethxvii) February 23, 2022
The series got its start as the follow-up to a secret ending from a long-forgotten game Drakengard on the PS2. And since then, the story has gone off in all these weird directions like having a prequel stage play that was Japan only and is canon. And the closest thing we have to a sequel is a series of raids in Final Fantasy XIV where 2B and 9S go to a different dimension to fight robots.
I don't know what we're going to get, but I'm ready to get my mind blown.
If you liked this, check out the cast for Trapped in a Dating Sim: The World of Otome Games is Tough for Mobs Anime and the Strongest Anime Swords of All Time.