Anime Expo 2020 Goes Virtual!
An announcement was made in mid April to announce the cancellation of Anime Expo 2020 by the Society for the promotion of Japanese animation (SPJA). No information about going digital was provided, the announcement ended with next year's Anime Expo's date.
Anime Expo 2020 was cancelled due to the Coronavirus pandemic, as the organizers had to priorities the health of fans, guest, staff, attendees and exhibitors.
Well, now we have Anime Expo Lite! With all that has happened in 2020 it is surely certain that this edition is going to be unique, because this is virtual! Fans will get to watch panel sessions, from the comfort of their homes without standing in lines in the heat of the summer!
Anime Expo (AX) has been taken place every year since 1992, for about 29 years it has been the leading event in the industry featuring the newest anime films, television series, fashion, video games, manga, dance, music concerts, exhibitors and exclusive convention merchandise, all combined to deliver unforgettable experiences to fans of anime and Japanese pop culture.
Speaking about the decision to go virtual this year, CEO of SPJA (Ray Chiang) had this to say -"we are excited to be able to parlay the traditional Anime Expo into a virtual experience. Since 2017, AX has been live streaming select panels as well as from the convention floor, so it is a natural transition for us to produce a virtual event. As everything in 2020 is different, we see a unique opportunity to be able to share our passion for Japanese pop culture not only with those that would have attended AX but now with any anime fan no matter where they live"
Apart from watching from the comforts of your home, the best part is that there is no cost to attend, it is free!
Anime Expo Lite is set to take place on July 3-4, live streaming will feature special guests, panel discussions, industry announcements, exclusive content, giveaways and more! Some of the companies set to participate include Crunchyroll, Pony Canyon, Bushiroad, Viz and lots of others.
On Friday, July 3rd there will be a special Food Wars : Shokugeki no Soma event. Warner bros Japan has announced "Stay connected with anime" – its first virtual anime panel which will be part of the schedule for Anime Expo Lite.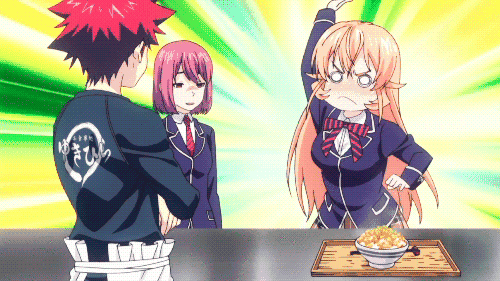 This segment will feature a real Shokugeki battle between Yoshitsugu Matsuoka (voice actor of Soma Yukihira) and Jun Fukuyama (Voice actor of Asahi Saiba). It will be followed by a question and answer section with director Yoshitomo Yonetani.
To partake in this Q&A section all you need to do is tweet your questions with #Foodwars_AX20.
Friday, July 3 – 12:00 PM – 11:59 PM (PDT)
Saturday, July 4 – 9:00 AM – 9:00 PM (PDT)
I know we all miss going to the Expo physically and connecting with other anime fans. Tell us what you think about going virtual and your plans for this edition of the AX in the comments!
ElToxic
Madly in love with anime and football...... it's disturbing.