Adorable Pichu Figure Charges Phones With Cheek!
[video src="https://www.youtube.com/watch?v=Ig25idfoBL0"]
This is by far one of the cutest figures I've ever seen in my entire life and I own several Nendoroids. Talented Pokemon clay artist Clay Yoshirin made a fully functional wireless charger in the shape of Pichu made entirely out of clay. And like her digital counterpart, this clay Pichu "discharges" electricity to charge your smartphone.
Ingenious and Cute
The Pichu statue has a MagSafe Charger embedded in his right cheek and astute Pokemon fans will notice this is the Spiky-Eared Pichu that was an event Pokemon back in Generation 4 and a main character in Arceus and the Jewel of Life. The statue has magnets inside of it so the phone stays secure.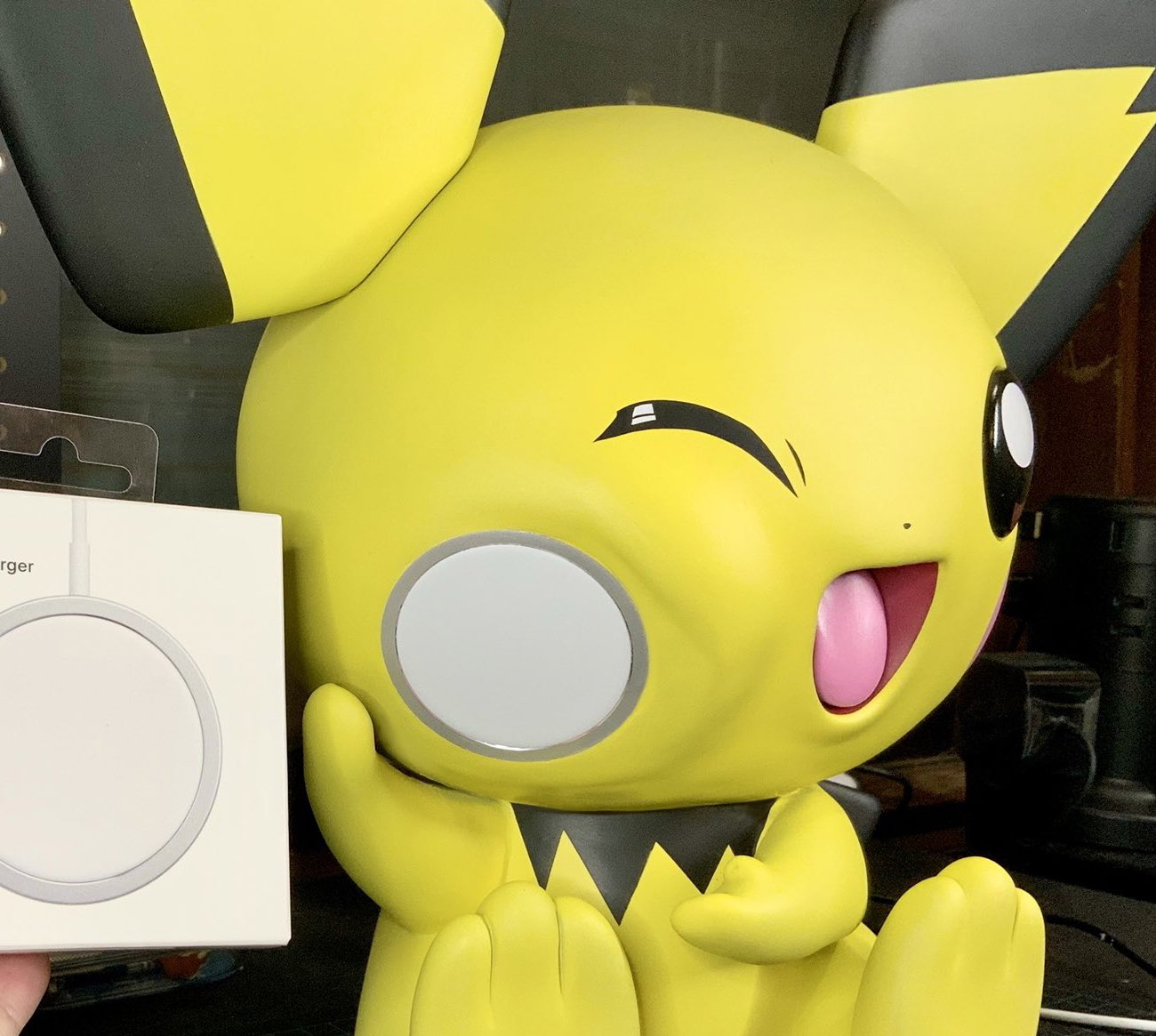 The statue is a pretty decent size as seen in this photo of Pichu holding a pretty big copy of Jojolion Volume 25. Just by eyeballing it, it looks to me like this Pichu statue is about 18 to 24 inches in height.
Not for Sale
I hate to be the bearer of bad news but this Pichu is not for sale as Clay Yoshirin made the statue as a part of his hobby and not as a business platform. Many people on his Twitter have repeatedly offered to buy his Pichu, but it doesn't look like he's going to part with it.
— ZeRoToLeRaNcE (@1ZeRoToLeRaNcE1) February 20, 2021
I don't know about you, but if Clay ever changes his mind, I would be the first to jump on the opportunity to buy this Pichu.
The Creation Process
Clay has a YouTube channel, "Clay Yoshirin Pokemon Clay Art" where he posted a video detailing how he created the statue. Both his Twitter and YouTube channel are in Japanese, so there is a language barrier; however, the video is straightforward and easy to understand.
In the video, you'll see Clay Yoshirin form the clay around a frame and carefully install the MagSafe charger into Pichu's cheek.
Gotta Sculpt 'em All!
I highly recommend you check out the rest of Clay Yoshirin's channel as he shows off his other Pokemon clay sculptures. He's made a Shellder, an Oddish, and the character Marnie from Sword and Shield. The best of the Shellder video is seeing him creating the dopey face and turning it into a rave light.
But by far, my favorite video of his is the gold chain gangster Psyduck that I would kill to have.
Before you go on his channel, I recommend you set aside an hour of your time because you'll fall down the Japanese clay sculpture YouTube rabbit hole. I lost an hour of my life going through Clay Yoshirin's channel and binge-watching every single video. I ended up watching other sculptors like NendoZaiker who made this really cute Animal Crossing terrarium.
Would you Buy one?
So, what do you guys think of this Pichu sculpture? Would you like to own one? And if not Pichu, then what Pokemon would you like to see? I want a Toxtricity as a charger or an amp. He's my favorite to come out of Generation 8. Let me know in the comments!
Be sure to join our Facebook group; follow us on Twitter and Instagram too!